TGCA Editor Andrew Moody spoke to the irrepressibly creative Simon Camilleri about his viral Hamilton parody "Nazareth". 
---
TGCA: Simon thanks for being willing to talk to "How I Made It" about your Hamilton Parody. Back in 2018, you were our second guest on this column and you told us about your "When Santa Learned the Gospel" project. How has that been going, and have you had any other projects on the go since then?
It's so wonderful to hear about churches in various countries still using my children's book to share the gospel at Christmas. Last year we even had one Primary School adapt the story into a school play involving 85 students! It's great that people are still finding it useful.
Probably the biggest creative project I've been involved in over the last year was a dramatic reading of the entire Book of Job which I had the joy of directing and performing in. It involved 9 actors each playing a role and included original music by Nicky Chiswell. It was an epic challenge to put together and it's been wonderful to hear of churches that have used the video for their sermon series or bible study. (more details at: job.thebackyardbard.com)
TGCA: In our last interview you described creating things as like "panning for gold" – most things don't work but sometimes you find a nugget. Do you have an idea of your strike rate?
Creative gold is still hard to find, but over the years you learn how to spot a rock a bit quicker
Creative gold is still hard to find, but over the years you learn how to spot a rock a bit quicker and not invest in an idea that just is not going to work. Having said that, my wonderfully patient wife Cat can tell you just how many songs and failed board games and creative projects I have half completed!
TGCA: How do you keep going when it's mostly rocks (not gold)?
For me, the process of experimentation is valuable in and of itself. Even if it never gets finished—even if it was a bad idea to begin with—you only learn from the process of discovering that. Each rock is an opportunity to hone your craft and learn what works and what doesn't. My eldest brother, Michael, is an artist who has always inspired me creatively. He said something in an education video that he was part of last year that perfectly encapsulates my creative philosophy.
I really love it when somebody makes something really, really well. Like this sandwich. This sandwich was made by a Master. But, on the other hand, if you worry about making something really, really well, sometimes you can get nervous that you can't make it well enough and then it can stop you from trying to make it at all! So the thing to do is, you make your sandwich. Maybe it's a crappy sandwich. But you make it. And then you make another. And then you make a slightly better one. And then, you keep going.
So, for me, I just keep creating. I keep digging for gold. I keep making those sandwiches. 
TGCA: Okay, so tell us about your Hamilton parody. How did you get the idea and go about producing it?
I have always loved parody songs—both making them and watching them. And back in August I had the idea that it'd be fun to do a parody of the big opening number from the musical Hamilton—but instead of it introducing the character of Hamilton, it would introduce people to Jesus.
I very quickly discovered, however, that—as Ecclesiastes says—"There is nothing new under the sun." Many others had already had that idea and had put their versions on YouTube. But rather than be disheartened, I used that as inspiration to try to produce my own version. 
I also thought it might be a fun opening number for my church's Christmas Carols event in December, so over three months or so, I started tinkering with some ideas and the words and lines slowly came together.
Sometimes just one or two lines would take days to get just right and other times it flowed really easily. But it was very enlightening to break down the original song and try to understand its rhythm and rhyming structure. I grew to have such a deep respect for Lin-Manuel Miranda (the creator of Hamilton) as well as the genre of rap in general.
Once I was finished writing it, it was just a short crazy-time of recording the audio at home, then filming and editing it with the help of friends from church. It was lots of fun to put together and I was so happy with the end result.
TGCA: What kind of response has there been to it?
Well, as I mentioned, it was created purely for my own church community and it was well received there and made for an entertaining launch for our Carols event. But after that, I simply uploaded it to my Facebook wall as I thought those who hadn't been able to see the Carols might enjoy it. That's when it started taking off! 
The most exciting response was seeing how many churches used it to share the gospel at their own Christmas church services
A big boost came when someone posted it on a huge Hamilton Fan Page and it kept getting shared from there. It was pretty weird. I started getting messages from people all around the world telling me they had seen it and enjoyed it as the number of views climbed from thousands to tens of thousands, to eventually hundreds of thousands!
All that was strange and interesting to witness, but the most exciting response was seeing how many churches used it to share the gospel at their own Christmas church services. It was shown at Christmas Eve and Christmas Day services across Australia, in Canada, the US, England and in other places. Having people watching it on YouTube was one thing, but being able to contribute to a church's goal of sharing the gospel at Christmas was very humbling.
TGCA: Have you had any big names or people associated with the original production share or comment on it? 
Many tried to get Lin-Manuel Miranda to see it, with lots of people tagging him on Twitter, but I don't know if he did. I do know that someone who used to perform with him and knows him personally emailed it to him, so I hope he saw it.
My very silly crowning achievement though, was when I saw that it had become the inspiration for another parody. The Christian satirical website, The Damascus Dropbear (the Australian equivalent of The Babylon Bee) did a fake article about me and the song, suggesting that I was getting signed up for a record deal by Kanye West's music label. It's pretty surreal when someone does a comic parody news article about your comic parody song!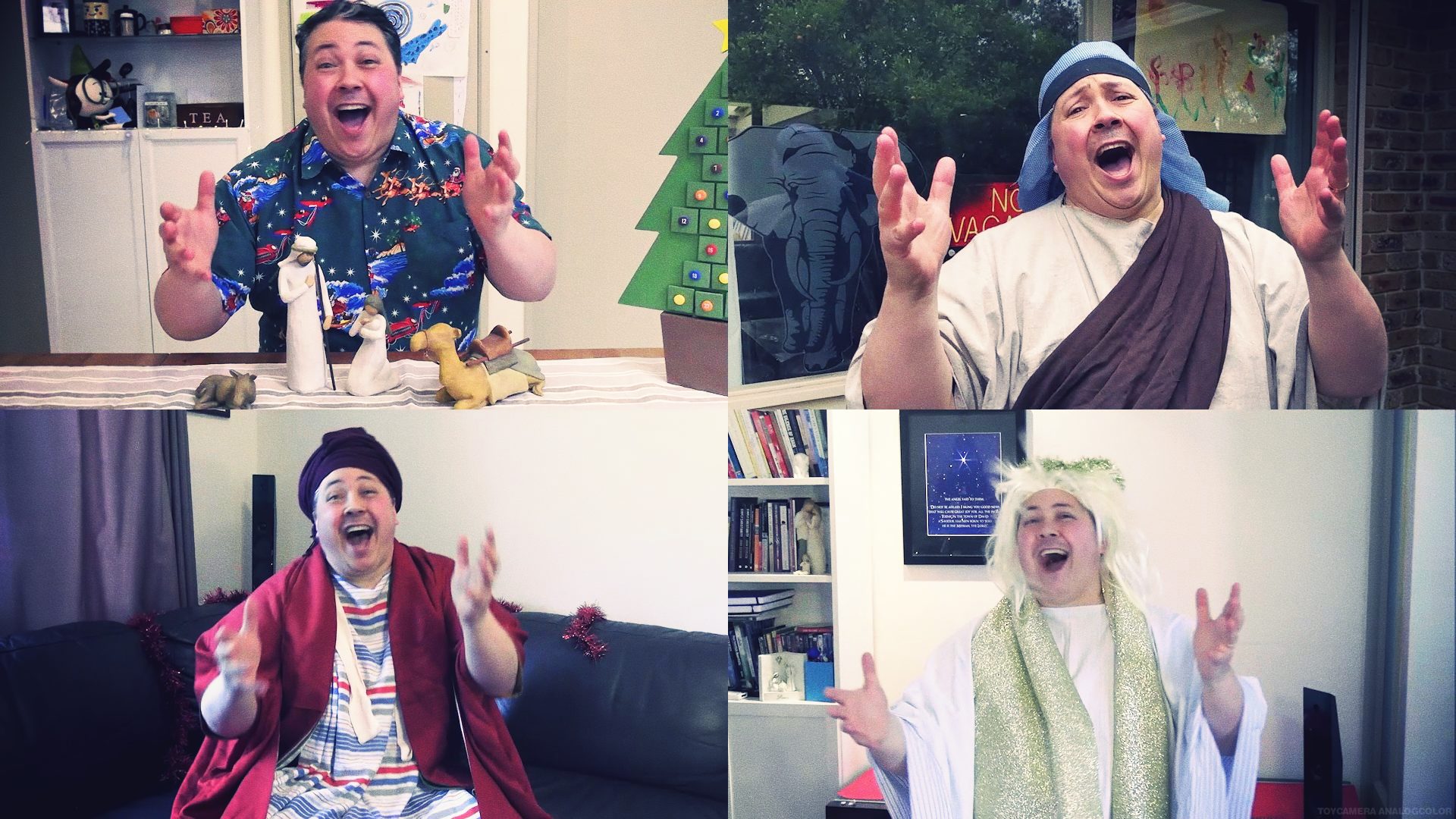 TGCA: I understand that you are now working on another parody for Easter. How is that going?
Yes, I jokingly posted on Facebook suggesting more Christian-themed Hamilton parodies I could work on. I came up with a list of 10 silly ideas, and in amongst the "rocks" there was one potential gold nugget—a parody of "The Room Where it Happened", which would be "The Tomb Where It Happened." Perfect for Easter!
So, I'm working on that at the moment and documenting a bit of my creative process on a Facebook Page for those that are interested. This one's more challenging than the "Nazareth" parody, so we'll see if it comes together. I hope it does, as Easter is such a wonderful opportunity to, not only celebrate Jesus' resurrection, but to use creativity to proclaim it to the world.
TGCA: Can we look forward to a full rewrite of Hamilton one day?
Ha ha. No, I don't think so. Not only would that be an exhausting feat to attempt, but also the full Hamilton musical is such a wonderful production, I wouldn't want to try to parody the whole thing. Actually, it's even got its own gospel threads running throughout—shining especially in the beautiful song "It's Quiet Uptown." I recommend anyone with a Disney+ subscription to put aside one or two nights and watch it. You may not be into rap or historical period dramas or Broadway musicals, but Hamilton is unique and I can understand the buzz it has created.
TGCA: Any final encouragements to other Christian creatives?
Keep using your gifts and being experimental to discover new and engaging ways to share the timeless message of the gospel.
I guess it's just to keep using your gifts and being experimental to discover new and engaging ways to share the timeless message of the gospel. I am inspired by Paul in Acts 17, where he observed the culture and the idolatrous images of Greek society. He was distressed by their idolatry, but instead of running away from it or tearing it all down in anger, he used these images to start a conversation about Jesus. He even quoted their poets (Acts 17:28) and repurposed a line that was originally referring to the Greek god Zeus, in order to teach them about Yahweh. It's almost like he did a parody, turning their song into a song that would point people to Christ!
I tried to do that with my use of the secular character of Santa in "When Santa Learned the Gospel" and now with this Hamilton parody, so I guess it's a bit of a personal passion of mine—taking iconic things that our culture already connects with and giving them a gospel purpose. Or as Paul modelled for us: 
To the Jews I became as a Jew, in order to win Jews. To those under the law I became as one under the law (though not being myself under the law) that I might win those under the law. To those outside the law I became as one outside the law (not being outside the law of God but under the law of Christ) that I might win those outside the law. To the weak I became weak, that I might win the weak. I have become all things to all people, that by all means I might save some. I do it all for the sake of the gospel, that I may share with them in its blessings. (1 Corinthians 9:20-23)