As usual, a mixture of books filled my shelf this year. A return to university meant a shift in my reading—and while I won't bore you with textbooks and journal articles—I have definitely spent more time reading about counselling and self-care. Here are 10 non-fiction highlights of the year, in loose categories. For fiction, see my blog, listed below.
Self-Care
The Whole Life: 52 Weeks of Biblical Self Care, Eliza Huie and Esther Smith
A wise and balanced guide to biblical self-care, and ways to approach it. The 52 weeks are divided into 6 sub-sections: spiritual life, physical life, a purposeful life, community life, work life, and a restful life. Each week focuses on a specific area, allowing the reader to pause, reflect, consider God's word, and respond in prayer and thoughtfulness. Highly recommended for those who long to serve the Lord sacrificially and faithfully, yet with wisdom and awareness of our human limitations.
Resilient Grieving, Dr Lucy Hone
An insightful and empowering book about grief, how it impacts and changes us, and how we learn to live with loss. Hone specialises in resilience psychology and worked with the people of Christchurch through numerous earthquakes. Her life was then turned upside down when her daughter Abi (12) was killed in a car accident, along with two dear family friends. She tells her own story of loss and grief, and combines it skilfully with research, producing a book that is deeply personal as well as a learning and guiding tool for others, readily accessible for anyone in grief. A valuable guide to those charting their own way through major bereavement, and for anyone who cares for or counsels those in grief. 
Burnout: A Guide to Identifying Burnout and Pathways to Recovery, Gordon Parker, Gabriela Tavella and Kerrie Eyers
Burnout is often spoken about, yet hard to define or quantify. Are you burnt out or burning out? Could it be depression?
Burnout is often spoken about, yet hard to define or quantify. Are you burnt out or burning out? Could it be depression? Exhaustion? An underlying medical condition? This book uses new research to develop a more nuanced scale to assess burnout, noting both the impact of work (both in professions and those who are carers) as well as predisposing factors that increase risk (e.g. perfectionism). One notable observation was the increased risk for those who view their work as a 'calling'. It is peppered with personal stories that give meaning and expression to the research and concepts and is relevant for those personally struggling as well as those in support roles, whether family, employers or health professionals. They conclude with numerous suggestions and strategies, noting "burnout resolves better with a self-management model", therefore people can take control and manage it themselves perhaps with some assistance along the way.
Biblical Counselling
I have already reviewed Mike Emlet's very helpful Saints, Sufferers and Sinners on TGCA this year, so I won't return to it again.
Three other valuable additions to this genre were:
The Church as a Culture of Care, T. Dale Johnson Jr.
For church leaders and elders, this expounds a biblical vision for soul care, re-establishing the church as the central place where it should occur. Preventative care should be a normal part of the one-anothering life of the church, and intensive care is that which requires immediate attention through formal counselling or intensive discipleship. This book lays the groundwork for churches to think through their culture of care, what may be missing, and why. Many would benefit if these principles were in place in more churches.
Consider Your Counsel: Addressing Ten Mistakes in our Biblical Counseling, Bob Kellerman
This brief and insightful book explores the process and mindset of biblical counselling by considering some of the most common mistakes and areas requiring growth. These include: lacking empathy, not spending enough time listening to people, talking at people rather than exploring scriptures with them, and the tendency to target sin but diminish suffering and grace. Counsellors are encouraged to view people comprehensively, considering body, mind and soul care; and to look to the compassionate, comforting, care of the Father, Son and Spirit as our model. Also relevant for pastoral carers.
A Biblical Counseling Process, Lauren Whitman
Aimed at a more focussed readership, this is a succinct primer for newer counsellors, guiding them through the beginning, middle, and end of a counselling relationship in an easily implementable format. The theory is outlined with goals for each stage, a potential session structure, and topics to consider. The practice is illustrated through a case study. The approach reflects person-centred cognitive behavioural therapy. However, it is integrated with a biblical perspective that acknowledges sin, forgiveness, potential for change and growth in Christ, and a desire to love God and others.
Other Non-Fiction: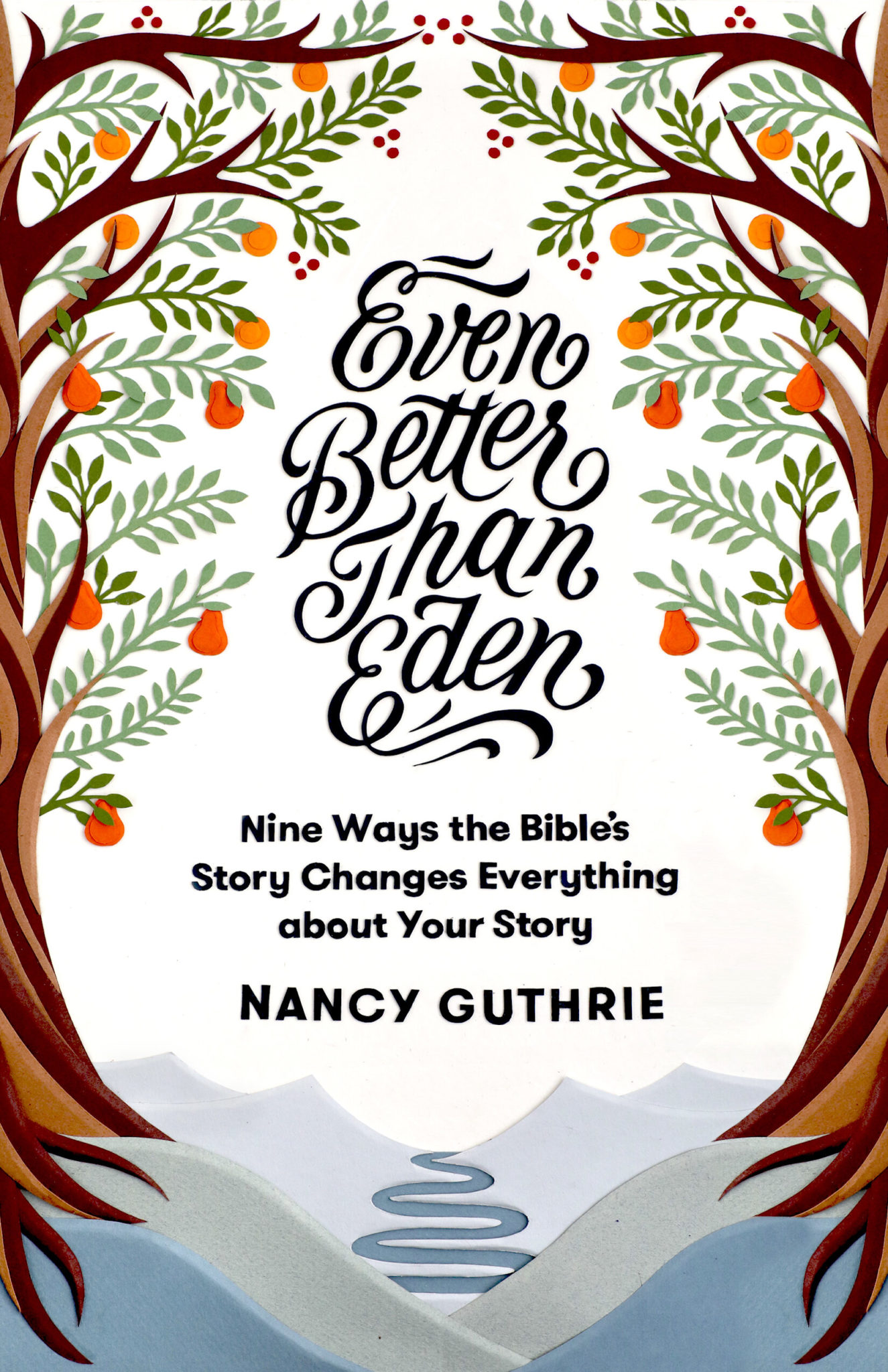 Even better than Eden, Nancy Guthrie
In this thematic biblical theology, Guthrie explores nine themes including: the wilderness, the tree, His image, the Bridegroom, Sabbath, a dwelling place, and the city. Many will find the links from creation through exodus and exile, to Jesus and culminating in the new creation, to be eye-opening and insightful. Even those who are quite familiar with the bible and how these themes are fulfilled will be encouraged and see links they might not have before. Using the Personal Bible Study notes ($3 from her website) made it even more worthwhile.
The Great Sex Rescue, Sheila Wray Gregoire, Rebecca Gregoire Lindenbach and Joanna Sawatsky 
A challenging yet insightful book that encourages Christian marriages to great, passionate, other person-centred sex that is enjoyable for both spouses. It is trying to provide three things: sexual instruction to married couples; research about the intimate lives of Christian women; an examination (mostly critical) of a range of Christian books on sex and marriage. At points it struggles to do all three well, and I would have loved to read a more balanced treatment of the same information, without the sometimes combative feel. The principles that explore what sex should be like are excellent (e.g. personal, pleasurable, pure, pressure-free, etc), as are the honest considerations of real challenges couples face (e.g. vaginismus, painful sex, the sexless marriage, the problems with duty sex, and the sinfulness of sexual coercion and marital rape). They issue a strong challenge to consider the messages that women are given by some church teaching, and how they can be adapted to be more honouring of each other.
The Dingo's Got My Baby, Lindy Chamberlain-Creighton
Anyone over 30 who grew up in Australia will have heard of Michael & Lindy Chamberlain, whose nine-week-old daughter Azaria was taken by a dingo from a tent at a campground near Uluru in 1980. This is Lindy's story, and she doesn't hesitate to give her opinion on the events or the incompetence of some people involved. It's long at over 900 pages, but is an engrossing read covering their early years and marriage, when Azaria was taken, various inquests, court trials, her time in prison, and later release. Her faith is clearly displayed and she expresses confidence that God has been with her through it all. No matter what you think of the Chamberlains or the case, this is a book worth reading. This is part of our nation's history, and not a proud one, and these are real people who have gone through considerable suffering, yet have come out of it stronger and completely reliant on God.
Books by A.J. Mackinnon
His two travel books are a delight, and whisk the reader away to another part of the world (which these days is a lovely treat). The Well at the World's End charts Mackinnon's travels in 1990 from New Zealand to a remote Scottish Island, avoiding all air travel. By yacht, train, bus, car, ship and ferry, he goes to Australia, through Indonesia into Asia, and onwards to Europe. The Unlikely Voyage of Jack de Crow charts Mackinnon's adventures sailing a small dinghy from the English / Welsh border all the way via the canals and waterways of England and Europe to the Black Sea in 1998. I was greatly helped using Google Maps so I could see exactly where he had gone. He has a clear love of literature and poetry which is explored and discussed throughout. Both are treasures to read—enjoyable, clever, insightful and just plain fun. (You could also search for online podcasts of him talking about these trips—hearing his own voice tell them is extra special).