Christmas can be a busy season—usually festive and joyous, but busy. 
Family visiting. Carol singing. Christmas tree decorating. Gingerbread making. Barbecue cleaning. Gift buying. [Insert other] doing. 
Not to mention that, for many, another COVID-impacted year has been draining, leaving us weary and aching. Sometimes we can feel all we need is a moment of quiet. But what we really need is good news that will refresh our bones (Proverbs 15:30). What we really need is good news of great joy. 
How good to be reminded of Jesus' birth and the hope he brings! In this edition, we will also be encouraged and refreshed by hearing from several student ministry groups. 
Staff-Workers are Valuable
Monash University, Clayton, Victoria
Patrick is one of many students at Monash Christian Union whose vision is for "everyone to know a disciple-making disciple of Christ." AFES (The Australian Fellowship of Evangelical Students) affiliated groups such as the Monash CU provide staff-workers to work alongside students like Patrick, who served on the CU committee this past year. And what a joy for students to have these partners in the gospel! Reflecting on the year that's been, Patrick says that
sometimes I have to pinch myself at how lucky we are to have theologically trained, seasoned ministry workers at our side as we proclaim the gospel on campus.
what a joy for students to have these partners in the gospel!
The staff do valuable work in promoting the gospel through preaching and teaching, enabling students to read and understand God's Word. But one of their greatest benefits is in training and equipping the student leaders (2 Timothy 2:2). 
In my role as Vice-President I worked closely with one staff-worker in particular, Amy. I learned so much from her from an administration perspective of planning and delegating, and especially the importance of preparation in ensuring each component of an event proclaims and centres on Christ. 
I've learned even more about how to lead as a Christian—and I'm not alone in this. I can see my experience mirrored in my fellow committee members as we progressed through the year. The staff-workers' examples helped us grow in our personal character and leadership. 
Patrick hasn't been involved in student ministry very long. And even now, after learning so much, he only has one year left of his commerce degree before leaving CU in the hands of a new group of students. Which is why staff-workers are so valuable: they serve long-term. 
Our staff workers help us to maintain a steady course in how we serve Christ on campus. Rather than attempting to reinvent the wheel or relying on our limited knowledge, we're able to direct our efforts towards well thought-out and proven ministries that make and mature disciple-making disciples of Christ. Despite COVID disruptions, our small groups and weekly meetings have been growing and bearing fruit. I believe this is in large part thanks to the staff-workers. We leaned heavily on their wisdom and experience this year. 
Subbies: Reaching the Unreached
University of Tasmania
Subbies is an evangelistic ministry of AFES that reaches out to university students from the subcontinent. The ministry faces unique opportunities, but also unique challenges, in promoting the Gospel. 
According to the Joshua Project, 73.1% of Asia's people groups remain unreached with the good news. The majority of the subcontinent is Hindu and borders are seemingly closed to the gospel message—"But the word of God is not bound!" (2 Timothy 2:9). 
Students from these countries are coming to Australia to study, providing unique opportunities for staff workers like Suraj to share the good news about Jesus that is for all people (Luke 2:10). Suraj explains that, at Subbies, "we dispel the myth that Jesus is merely a white, Western, English speaking god, with students hearing the gospel in their own heart language". Even during COVID, numbers at weekly Subbies gatherings have doubled, with over 1,000 subcontinental students hearing the gospel in the past two years—plenty for the first time.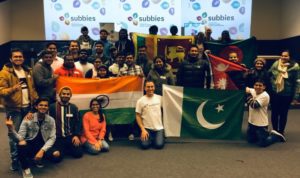 But coming from a Hindu background that recognises millions of gods can make it difficult for students to accept the exclusive claims of Jesus to be Lord and Saviour. 
For many, preaching Christ's death and resurrection as the only way to eternal life is almost unfathomable and unbelievable. 
Accepting Christ Jesus as the only Saviour can also be costly for those in the subcontinent, including for some students at the University of Tasmania who will return home at the end of their studies. 
Becoming a Christian is to be excommunicated and expelled from the family, friends, relatives and community. Becoming a Christian is to be ready to leave everything behind and sometimes even to be ready for death. 
Which is why we rejoice when someone is prepared to lose all for the sake of gaining Christ (Mark 10:35). Pratap is a PHD student from India. After three years of attending Subbies, and reading the Gospels of Mark and John, Pratap "moved from understanding Christ intellectually to believing in Christ exclusively". This has been a sacrifice for him, creating strain and conflict in his relationships with his wife and his mother in particular, both of whom are devout Hindus. Yet we are encouraged by this news, not disheartened, for "he is no fool who gives what he cannot keep, to gain what he cannot lose" (Jim Elliot). Pratap believes that "Jesus is the son of God and died to save the world". How could we not receive this good news with great joy?
Good News has to be Shared
Curtin University, Perth, WA
Over the past few weeks, Christian student groups have been gathering across Australia to take part in the AFES national conference. 'NTE' seeks to train and spur on university students to rightly handle God's Word (2 Timothy 2:15). 
One student who attended, Joseph, is part of the Christian Union at Curtin University. Despite the presence of state border closures and regional hubs, Joseph said that what made this year truly different was the challenge to go to the ends of the earth. 
It was a real wake-up call. The gospel is too good and too important to keep to ourselves.
In Joseph's small group, they were investigating Jesus' resurrection. One takeaway was grounded in 1 Corinthians 15, which reveals the reason,
… why so many missionaries give up their careers, their lives and everything they've known to move halfway across the world: they will be raised with Christ into eternal glory. Nothing in this life can even hold a candle to that. For the first time, I'm seriously thinking about what it will look like for me to share the gospel. If it means moving halfway around the world, or even a few hours' drive away, so be it. For now I'm still studying, and the gospel impacts me here too. In running and organising events at CU, I need to remember the real reason for these logistical tasks: reaching people with the good news about Jesus. 
We can't keep this good news to ourselves. Wherever we are, our lives are not our own. Christ's love compels us to share this good news of great joy (2 Corinthians 5:14-15).
---
If you'd like to partner financially with AFES (or a particular staff-worker like Suraj) then visit https://support.afes.org.au/
If you have good news about a ministry you're involved in, send an email to [email protected] so that others can share in your joy.
---