After the men's 100m freestyle at the Olympics (I was watching during my lunch break, boss!) Kyle Chalmers, fresh out of the pool from a silver medal swim, gave a compelling pool-side interview. Considering he had busted his gut for a few furious minutes, he spoke humbly and eloquently about how he had performed and what a silver medal meant to him. 
The cynic in me thought, well he's not a champion in every way … yet, there was something commendable, something champion-like, in the way he carried himself in defeat.
As the interview came to an end, the interviewer thanked Kyle and said, "You are a champion in every way." The cynic in me thought, well he's not a champion in every way, he had just won silver after all! And yet, there was something commendable, something champion-like, in the way he carried himself in defeat. As the in-studio host said later that day, "he was as humble in defeat here as he was gracious in victory in Rio."
This interview highlights what emerged to be a noble theme in this Olympics: winning really isn't everything. An ever-growing list of "Olympic spirit" moments illustrates the point. Jess Fox was celebrated after her bronze, not only her gold. Simone Biles was applauded for her courage not only in competition but in caring for her mental health. There was Pat Tiernan's gutsy run in the 1500m, and the high-jumping friends sharing a gold. There was the endearing wholesomeness in the camaraderie of the skateboarders, and the epic end to the decathlon with Aussie athlete Cedric Dubler cheering on his young teammate Ash Maloney for bronze. There was the inspiring story of Peter Bol and the infectious joy of Nicola McDermott (Can you tell that I well and truly got into the Olympics this year!?). 
Humility in defeat, grace in victory, this is the true mark of a champion.
A Very Modern Spirit
But this has not always been the Olympic spirit. Later that same day I listened to a podcast on the Ancient Olympics.[1] For almost an hour the historian Tom Holland dismantled every romantic notion of the Greek games. I had always imagined that the ancient Olympics were basically the same as our games today, except naked and with olive leaf crowns! But listen to the way Pindar, a Greek historian, spoke of the losers in the ancient games:
No joyous homecoming for them on their return to their mothers. No sweet laughter, no surge of joy. Down dark alleyways they slink, avoiding their enemies, gnawed at by the consciousness of their defeat.
In the ancient games, 'if you were second, you were a loser.'
As Holland hilariously notes, in the ancient games there was no concept of the plucky Aussie coming in eighth. "If you were second, you were a loser." Victory, not virtue, was really all that mattered in the ancient games. Even the founding myths of the Olympiad were of morally dubious "heroes" who tricked and cheated (and even killed) their way to the top. 
This all begs the question, what has changed? Why, thousands of years later do we happily celebrate second place, and applaud noble defeat? In a word: Jesus.
A Very Christian Spirit
Holland notes that as the Roman Empire became more Christian, interest in the games slowly faded until they were abandoned altogether. What was it about the Christian faith that saw the ancient games come to an end? And why are our modern games so different?
Well, it might be partly to do with the way that Christianity messed up conventional ideas of victory and defeat. The cross was a symbol of abject humiliation. The thirsty, gasping Jesus, dying on the cross, looked like a total loser. Yet, at the same time, Christ's death on the cross, despite all appearances, was not a noble defeat but a glorious victory. It was through his death on the cross that Jesus 
revealed his divine glory (John 12:27-33); 

was recognised as the Son of God (Mark 15:39);

defeated death (2 Timothy 1:10)

and made a "public spectacle of [the evil spiritual powers], triumphing over them by the cross." (Colossians 2:15)
Christ made the greatest token of weakness and shame into a symbol of joy and hope and peace and love. Because of him, losers can be winners, victims can be victors, the lowly can see themselves as heroes and champions. Holland says that we see marks of this everywhere in the modern world—just as we've seen it over the last couple of weeks at the modern Olympics.[2]
A Spirit of Grace
The Christian message has transformed our world. And it also raises up individuals. It is about a victor sharing his triumph with his friends. There were moments like that too in the Tokyo games. During the medal ceremony for the 200m backstroke, Australia's gold medallist Kaylie McKeown invited her compatriot, and bronze-medallist, Emily Seebhom to join her on the top of the podium for the singing of the national anthem. Asked about this afterwards, McKeown said that Seebhom deserved to be there with her. Again, my inner cynic couldn't resist! She didn't deserve to be there at all! She had earned a bronze medal, and there was a place on the podium for her that was exactly what she deserved.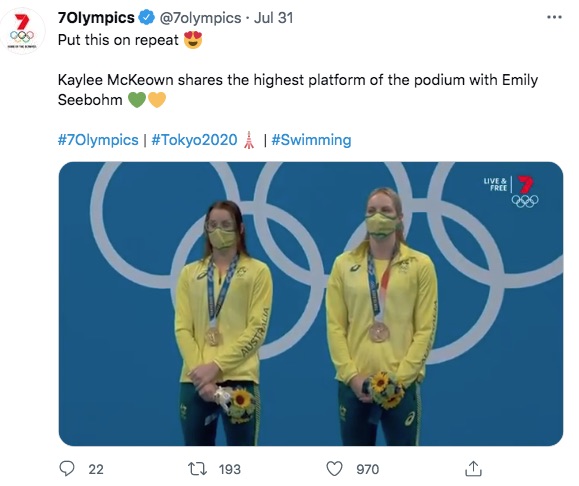 And yet, it was a moving gesture. It was moving because it was an act of grace. Seebhom was invited to the top of the podium because McKeown, the champion, chose to share her moment of victory with her friend. 
She didn't deserve it, she was given it. 
Just like us.
Speaking of Jesus' victory over death in his resurrection, the apostle Paul writes, "But thanks be to God! He gives us the victory through our Lord Jesus Christ." (1 Corinthians 15:57). Christ is our hero. He has defeated the reigning champion of the world. He conquered death once and for all and has been crowned as Lord and King. 
And we get to share it, even though we don't deserve it. We aren't the plucky runner who busts their gut to make it into the top 10. We are willful rebels, cheats who ignore God's good commands and selfishly pursue our own ways. We don't deserve to be crowned with Christ at all. We deserve death, and there is a place for us outside the kingdom, "into the darkness, where there will be weeping and gnashing of teeth." (Matthew 8:12)
But Jesus offers us life. He invites us to join him in his victory, he welcomes us into his kingdom, and he pours out his Spirit so that we might humbly serve like him. And to all who trust in him, he offers the crown of life which will outlast even the most well-earned Olympic gold (James 1:12). 
We don't deserve it, but in Christ, it is given to us. It is an act of grace. Jesus is our true champion, about whom we can truly say, he is humble in defeat and gracious in victory.
---
[1] The Rest Is History, spotify.com
[2] You can read more of this in Tom Holland's book Dominion.