1. The XX, "I See You"
The London-based trio that make up The XX know how to do two things extremely well: write about heartbreak, and find rhythms that mirror the emotions of heartbreak in a devastatingly addictive manner. Any urban-dwelling millennial who has felt the thrill and danger of new romance will find comfort and confrontation in lyrics such as: "When and where did we grow cold? / I thought I had you on hold" and "My name on your lips / Your air in my lungs / Drowned in oxygen". However, it's the trio's ability to turn samples and silences into moments of powerful emotion that make The XX such a compelling band, seen most notably on lead-single "On Hold" and album highlight "Lips". If you're looking to dance or simply looking for all the musical feels, "I See You", the third LP from the group is not to be missed.
2. Chance the Rapper feat. Daniel Caesar, "First World Problems" (Live on Stephen Colbert)
Chance The Rapper debuted his "Coloring Book" lead-single "Angels" on The Late Show with Stephen Colbert in late 2015, and on 26 September of this year, Chicago's childhood hero returned to the show accompanied by Canadian soul singer-songwriter Daniel Caesar on guitar. Over an emotionally-gripping five minutes, the pair presented one of my favourite performances of the year, an introspective reflection upon faith, fatherhood, dreams, and the realities of life in a fallen world, whilst still looking to future hope in Jesus through the constant refrain: "The day is on its way, it couldn't wait no more / Here it comes / Ready or not, here it comes." There are several powerful moments in this performance, notably the outro in which Chance erupts with a gospel choir proclaiming; "The day is on its way, / It will not wait another day!" but it's the beautiful picture painted in the songs opening lines about the relationship between our loving God and a broken humanity that really set this song apart: "I get sad when I look at the stars . . . You think they close but really we far / And really, they ain't even that much closer to God."
3. Gang of Youths, "Go Farther In Lightness"
I had a chuckle to myself when I saw a friend of mine complaining about the fact that the second album from Sydney-based rockers Gang of Youths was merely an inferior combination of music by Arcade Fire and The National, because when I first listened to 'Go Farther In Lightness', I publicly reacted in virtually the same manner. However, my good friend and musician Angus Trenerry implored me to listen again and then another friend explained the events that inspired some of the album's content, and the album came to life. 'Go Farther In Lightness' is a high-octane and heartbreaking exploration of faith and frustration that simultaneously reminds listeners of wild thunderstorms and lonely, sleepless nights spent crying out to God. "Persevere" is one of the most moving songs I heard this year, as lead singer David Le'aupepe traces a shattering story of a couple who lost their child and the impact it had on his faith, album highlight "Do Not Let Your Spirit Wane" is a gripping exploration into the tension of disillusionment and desperation when faced with moments of sorrow. "What Can I Do If The Fire Goes Out?" is also a standout from the album's seventy-seven minutes.
4.  SZA, "CTRL"
The debut release from Top Dawg Entertainment signee Solána Imani Rowe, known as 'SZA', was greatly anticipated, and lived up to its hype, easily sitting atop my list of R&B releases for the year. The album is deeply personal, a beautiful yet sorrow-filled portrait of the struggles and fears associated with romance, growing up, and identity. Interestingly, the album's lowlights occur when male voices lend a hand, with appearances by both Kendrick Lamar and Isaiah Rashad falling short of the quality of the solo efforts (for your own good, skip "Doves In The Wind." It's awful). "Supermodel" and "Normal Girl" provide poignant insights into the dangers of relationally shallow yet physically intimate relationships, whilst standout track "Prom" sees SZA reflect on her insecurities surrounding the need for maturing. If you can avoid the lowlights, this album leaves much to be appreciated.
5. Hillsong Worship, "Christmas: The Peace Project"
The latest release from the global powerhouse that is Hillsong Worship carefully blends timeless truths with contemporary sonic landscapes to present a Christmas album that is rich with both new content and many of the most well-loved nativity hymns. As a result, the album feels and is as accessible as it is weighty: fantastic for unbelievers looking for a quality production of Christmas songs and believers desiring to seek anew the wonderful truths of the nativity story. Lovers of old carols will enjoy "Hark" and "O Come All Ye Faithful", whilst the kids will love jumping around to "Joy to the World". Lead-single "Seasons" is a beautiful examination of the way in which the Christmas story reveals God's faithfulness to His promises over time. However, it's quite evident when Brooke Ligertwood is behind the lyrics of a Hillsong Worship song: there is a theological weight beautifully joined with heartfelt affection for Jesus, as is made evident on the highlight of the album, "Prince of Heaven", which closes with the reflection: "We can know him, this Prince of Peace / In light of mercy, confess our sin / Lay our burdens at Jesus' feet / And with gladness sing." Amen to that.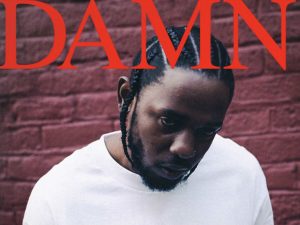 6. Kendrick Lamar, "DAMN"
The undisputed king of rap dropped his fourth LP just before Easter this year, the contents of which are as complex as they are dynamic. For some, the violent nihilism that is weaved throughout the album's content makes it too hard for stomach, seen notably in the furious outpouring of emotion by Lamar in the last verse of "DNA". However, it's the complex layers that lie underneath this surface that set "DAMN" apart from most content released in 2017. Yes, the album houses one of the year's most lauded tracks in lead-single "Humble" and features a wide array of catchy tunes (see the Rihanna featuring "Loyalty"), but it also presents an intimate and at times confronting insight into the crisis of identity and faith that Lamar has faced during his formative years. Throughout the fourteen tracks, the Compton native explores his own propensity to both "wickedness" and "weakness" over a sonic landscape that is frantic and constantly shifting, the production itself mirroring the personal struggles that the rapper examines in the lyrics. The album's thematic centerpiece is the U2 featuring "XXX", although it's the eight-minute slow burner "Fear" that really displays his talent.
7. Fleet Foxes Live At The Sydney Opera House
If you've been fortunate enough to see a performance in the Concert Hall of the Sydney Opera House, you'll know that it's a near-perfect setting for a band who made a name for themselves through sweeping male vocal harmonies. During VIVID 2017, Seattle-based indie folk artists Fleet Foxes showed a seated crowd why over multiple sold-out nights. The vocals of fan favourites "Your Protector", "White Winter Hymnal", and "Tiger Mountain Peasant Song" soared around the room, and lead-singer Robin Pecknold was visibly beaming after an absolutely breathtaking performance of "The Shrine/An Argument" (yes, even the clarinet freak-out solo). This was a special treat for Fleet Foxes fans new and old, as the band carefully weaved content from new album "Crack Up" over a fantastic two-hour set.
8. Drake, "More Life"
After the relatively disappointing 2016 release of "Views", rap superstar and all-round terrible basketball player (albeit passionate NBA fan) Drake's 2017 self-described "playlist" album release "More Life" served as a welcome reminder of why the Toronto native has had such an impact on the current state of play in rap, pop, and hip-hop music. Instead of trying to steal the limelight, Drake draws in a wide range of voices from across the globe of rap music to create a musical experience that lives up to its title. The album is a worldwide tour of the music that has influenced Drake's style, and pays homage to British grime artists, Jamaican dancehall leaders, South African house producers, Kanye West, R&B crooners, and powerhouses in both production and lyricism of the Atlanta trap music scene that currently has a grip on most of the Global Top 50. Don't get me wrong, there's still a lot of the typical Drake that people are used to on this album: arrogant and witty wordplay, vicious attacks on his musical enemies, and all the hype of an NFL Superbowl game, but this time, the whole world's invited to the party.
9. The War on Drugs, "A Deeper Understanding"
It's hard to summarise the complexity and meticulous nature of the music created by Adam Granduciel and his band, but on their fourth album, "A Deeper Understanding", they find the perfect balance of complexity and accessibility to create one of the year's most accomplished rock releases. Lead-single "Holding On" is the album's best example of this balance. The chugging, sprawling seven-minute epic "In Chains" and the grandiose composition on the album's second track "Pain" are also highlights.
10. Hillsong United, "So Will I (100 Billion X)"
This list would be remiss without my favourite worship song of the year. Despite the awkward title, there is little not to love about this standout track from Hillsong UNITED's 2017 album "Wonder". Beginning in creation and ending in salvation, the song is a grandiose, sweeping cover of the majesty and glory of God as demonstrated in his Creation, to the intimacy and compassion of God, as demonstrated on the Cross, to the power and might of God, as demonstrated in the resurrection. The beginning of the third chorus, aptly handled by Irish singer Ben Hastings, declares; "And as You speak / A hundred billion failures disappear / Where you lost Your life so I could find it here / If you left the grave behind You so will I." That is a beautiful truth that I'm willing to sing to my mind, to my heart, to my soul, into eternity