Tim Keller, founding pastor of Redeemer Presbyterian Church in New York City, co-founder of City to City and The Gospel Coalition, author, preacher, and evangelist, went to be with his Lord on Friday 19th May 2023. The Gospel Coalition Australia traces its origins to a meeting with Keller while he was in Australia for City to City in 2014. His influence, and his loss, has been felt right across this country. This week, as we mourn his passing, and rejoice that he is in glory, we have gathered some reflections of Australian Christian leaders on his life and ministry.
Three Encounters with Keller in the UK
Tim Keller rarely came to Australia—only once to my knowledge. Many in-person encounters that Australian leaders had with Keller were actually at events in the United Kingdom, which he visited more frequently. Gary Millar, principal of Queensland Theological College and founding chair of TGC Australia writes:
I had the delight of meeting Tim Keller briefly a few times over the years … Clearly uncomfortable with being the centre of attention, he quietly got on with giving himself to whoever he was with in a deeply gospel-saturated way …
I heard Tim speak a few times, but it was two talks I heard in London in 2004 on 'Preaching that Lives and Endures' which have, I think, had the biggest impact on me. Marshalling Luther, Edwards and Lloyd Jones in a way which was at the same time masterful and beautifully simple, he opened up for me what it means to preach to people's hearts.
Steph Judd, lawyer and podcaster based in Melbourne, met Dr Keller when studying in Oxford. She recalls:
I once had the privilege of meeting Keller in Oxford, where he was the keynote at the Oxford Inter-Collegiate Christian Union's mission week. One afternoon … he was addressing postgraduate Christians on something to do with human rights. I am a lawyer by trade … [and human rights] is a passionate interest of mine … Here are three things I remember.
First, his manner was so conversational. He wasn't giving a presentation as much as he was inviting you into his thinking. It was as though we were continuing an existing conversation …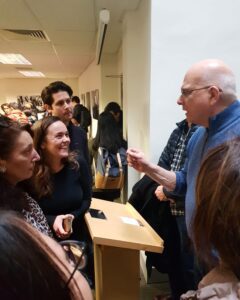 Second, he was funny. I don't like going up to famous people. But I went up to … Keller after his talk to ask a follow up question about some niche side-point he had made. Not only was he extremely generous with his time …  but he was funny … He wanted to put us at ease … (My friend managed to capture a photo of Tim mid-delivery of a joke… it's perfectly timed, because I just look like the embarrassing fan girl that I honestly probably am.)
Third, he spoke from two sheets of paper …They were simply lists of sources, largely academic, on the related topics he was speaking on … he was so familiar with his sources and their contents that he was able to speak to them merely by referring to their citation. That shows deep, thoughtful engagement with a diverse array of ideas. The man was a scholar … He was an instrument, pointing us to others, translating, getting out of the way so we could see the big picture more clearly … I wish there were more voices like that around.
That afternoon in the bowels of the Oxford Town Hall, something clicked for me: I could be me … I can inhabit the voice God has given me, with the mind and interests and manner I have, rather than trying to curate one that will attract More Platforms and Bigger Audiences. How liberating! It was a big turning point for me.
Andrew Heard, pastor of EV Church on the NSW Central Coast:
I met him in England some few years ago and I became a fan. We were both speaking at a conference; he as the keynote speaker, me as a lesser satellite speaker. We were housed in the 'speaker's lodge', and so we had time together. Not much. But enough. He left a deep impression on me. He was grace on legs. He was authentic (in the best sense of that word). … There was no pretension, no celebrity, no impatience with lesser mortals. He was just a Christian brother seeking to serve his Lord along with all others who call on the name of Christ.
He gave time to listen. He sought to understand. He reflected back. He engaged so kindly with this blunt Aussie from Down Under. He never once gave a hint that it was beneath him; the very opposite in fact. He gave of himself so that his thoughts and intentions might be understood better. He showed great insight into our Australian scene though he only knew it from a distance. He was aware that much of his material was particularly suited to his own context and needed translation …
And in all this he revealed something of his heart—that one of his great concerns was that the gospel of Jesus might impact and shape every dimension of a person's life. His desire was that believers might work out consistently and fully what it means to be a follower of Christ in all of life.
Fresh Insights into God and the Gospel
Adam Ramsey, who leads Liberti Church on the Gold Coast, and also serves as the director for Acts 29 Asia Pacific remembers throwing a Tim Keller book across the room.
Once, I threw a Tim Keller book across the room and I had only read the first chapter.
… The book was King's Cross, the opening chapter was called 'The Dance', and I simply couldn't keep reading … Why? Because I had just read a sequence of thought that I had never before considered, that struck me with the force of a thousand mic drops and caused the book to fly out of my hands and sail across the room.
Tim had painted a picture of the love and goodness and glory of the triune God, so compelling, that I had to stop and simply worship …
Over the years, I would discover that Tim had a habit of doing that to me; whether it was a paragraph in a book or a single sentence in a sermon that connected the dots in a way that made an audible "whoa" escape my lips …
When I was asked to write a short reflection on how I have been shaped and impacted by him, my initial thought was "How have I not been?!" His life has profoundly influenced my preaching, marriage, leadership, theology, posture, missiology, church planting, writing, apologetics, and the way that I walk through suffering, criticism, or sorrow.
Few people outside of the Scriptures—living or dead—have impacted my life the way that Tim has … Thank you, Tim, for relentlessly making Jesus the hero. Thank you for running faithfully and finishing faithfully. I am who I am today because of your teaching and example. And I'm sorry for throwing your book.
Bonnie Hunt, Operations Director at Providence City Church in Perth, Western Australia, reflects:
In his books and in the sermons on frequent rotation on my podcast playlist, Tim revealed things about God I had not previously known and understood. More than that, there were so many times Tim illuminated the beauty and joy of the gospel …
My thankfulness for Tim's ministry extends beyond my own personal experience. I know his work and ministry have built up others around me. Some of that maturing has facilitated relational restoration and healing. Praise God!
To this silent observer on the other side of the globe, Tim's witness in the final stages of his life continued to teach me. In my middle years, as decay looms larger in my field of view, I recall Tim's insistence on God's goodness as he persisted in the race set before him. I pray God will help me to follow Tim's example.
Influence on Emerging Leaders
Keller played a formative role in many of today's emerging Christian leaders. Luke Tucker, a third-year student at Moore College, Sydney, reflects on Keller's influence on his own ministry formation:
Like so many people of my generation, Keller is synonymous with thoughtful preaching, incisive cultural analysis, purposeful ministry practice, and—of course—an infectious love of Tolkien. I am training to work in vocational ministry in large part because of his compelling vision for the gospel expressed in all of life. To my mind, he stands in a small group of evangelical figureheads who can set out the predicament of human sin and Christ's atoning work without failing to communicate to a secular world that God is relentlessly for them and committed to human life and culture …
As an angsty teenager, reading The Reason for God helped me see how our faith is richly and deeply intellectually satisfying. As a young man working in and for churches, Center Church helped me understand how to present the truth of Jesus' lordship over all things—affirming that God loves all that he has made and loves human culture, while showing that only under the Lordship of Christ are our greatest longings and human predicaments resolved.
So also, Paul Young, a church planter and pastor in Bayswater, Perth, reflects on Tim's influence on him and other church planters:
Tim Keller is someone that rightly garnered much attention. After all, planting Redeemer by evangelising the church into existence in one of the most secular cities in the world was humanly incredible. And yet, he was unlike every other church planter that I knew. He wasn't young, he wasn't brash, he was old and theologically astute. He wasn't hip, he didn't dress like the cool kids, he didn't hold "edgy" church services. He listened deeply, was godly in character, gracious with opponents, and talked about Jesus all the time. And the best bit? He didn't put his hand up to plant the church in the first place! Tim and Kathy only decided to plant Redeemer when they couldn't find anyone else to do it …
Redeemer's first church planting manual is a model for careful gospel thought when starting a new church. Center Church articulated such an important but easy-to-understand framework on gospel and culture that anyone could use, even our own launch team! But most importantly for a church planter like me, it was the strong impression of a kind and humble spirit that withstood all the trials and stress of church planting that showed me that godliness and humility are the most important characteristics for any planter. … I'm thankful to God that the model of church planting that got my attention during training wasn't the "cool" planter, but someone who by all reports deeply loved and followed Jesus humbly to the end.
---
Australian Christians have been richly blessed by the ministry, resources, and the personal integrity of Tim Keller. We are thankful for his family and his church for sharing him with us. "Blessed are the dead who die in the Lord from now on. 'Yes', says the Spirit, 'they will rest from their labour, for their deeds will follow them.'" (Revelation 14:13)