To commemorate the passing of Donald Robinson, former Archbishop of Sydney Bishop Donald Robinson, TGCA invited some of those who knew him to share some of their reminiscences. Please also see this biographical sketch from Rory Shiner.
---
Andrew Reid, Principal of the Evangelical Theological College of Asia (ETCAsia) in Singapore
Donald Robinson was nurtured in the evangelical Anglican church in Sydney and the evangelical parachurch environment of Sydney (Crusaders and IVF/AFES) and thrived in the post-war environment which saw the development of evangelical scholarship, particularly in the area of biblical interpretation. Although he was first and foremost a 'Churchman' and New Testament scholar noted for careful, linguistically sharp and historically aware exegesis, it could be argued that his abiding contribution was in the field of Biblical Theology.

After returning from studies in the UK where he was strongly influenced by the lectures and writing of C. H. Dodd, Robinson returned to Sydney and became a lecturer at Moore Theological College. It was there that he developed a course that eventually morphed into the subject of 'Biblical Theology' that has been taught at Moore now since the early 1960s and has come to be regarded as a fundamental element of the theological development of students and their preparation for ministry.
The groundwork was done by Donald Robinson. The flow-through to evangelical preachers and writers around the world cannot be underestimated.
Although his students and successors at Moore developed his thought, applied it extensively to hermeneutics and preaching, and made it accessible to a general audience, the groundwork was done by Donald Robinson. The flow-through to evangelical preachers and writers around the world cannot be underestimated. In an age of increasing biblical illiteracy, where ordinary people struggle to understand the Bible and how it fits together, Donald Robinson leaves a legacy that is largely unknown but immeasurable.
---
Mark Thompson, Principal, Moore Theological College
We at Moore College rejoice today that our dear brother and father in the faith, Archbishop Donald William Bradley Robinson AO was called home to be with Christ in the early hours of Friday morning. The debt we owe to this faithful disciple and Bible teacher is truly incalculable. He taught us how to read the Bible as a whole, to understand its big picture of 'biblical theology'. His insights have been shared around the world thanks to Graeme Goldsworthy and Vaughan Roberts. He taught us to think about church the way the Bible speaks about church rather than to impose our traditions on the Bible. He taught us to be courageous when our biblical convictions are not shared by others and yet to do so without personal animosity or venom.
Those who were taught by him still speak of how he was the most stimulating and engaging of teachers. He asked questions of the text that they had never thought of asking and helped them to see the Bible with fresh eyes. He taught them to pay attention to the broad sweep of the Bible's teaching, 'the whole counsel of God' as Paul put it in Act 20, and see theological lines of connection between its various parts, while insisting all the time on careful attention to the precise words of the particular text at hand. He didn't let anyone get away with importing things into the text that were not there.
Donald's ministry extended far beyond the classroom. His time as Bishop in Parramatta allowed his pastoral concerns to come to the fore. He made an extraordinary contribution to the new Anglican prayer book in 1978. As Archbishop of Sydney, he stood resolutely for biblical and evangelical truth, despite significant opposition from both outside and inside the churches.
I am grateful for the impact both direct and indirect Donald Robinson has had on my own life and ministry. I am saddened that he is no longer with us but excited for him who is now with Christ, which, as the apostle Paul reminds us, 'is far better'.
---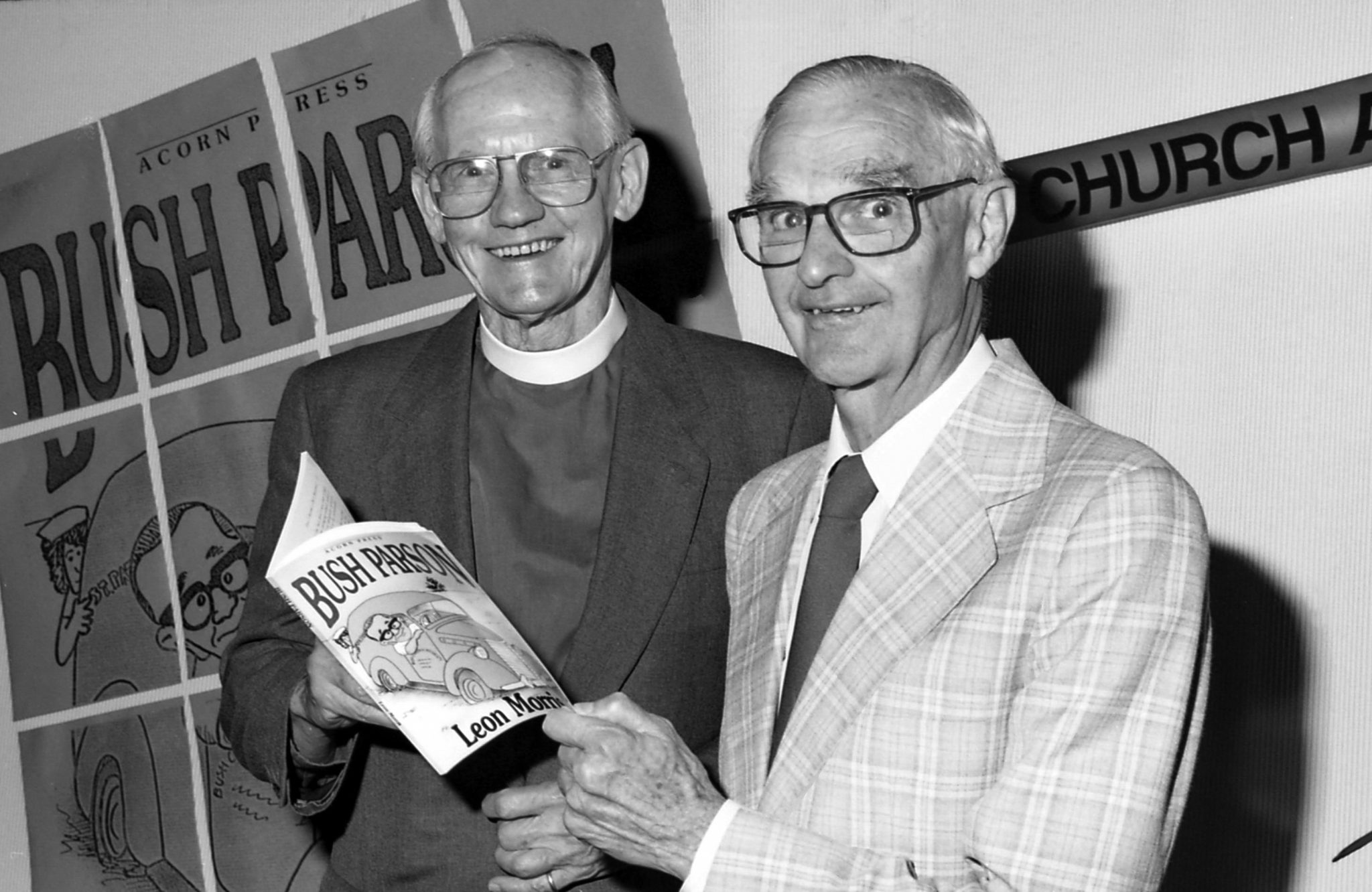 Donald Robinson (left) with Leon Morris
---
Marcia Cameron, Christian historian; author of Phenomenal Sydney: Anglicans in a Time of Change 1945-2013.
Bishop Robinson will always be Archbishop Robinson for me. His death draws to an end a remarkable influence. Preferring the title of 'Bishop' after his retirement as Archbishop of Sydney gives the measure of the man: transparently humble and also rigorously precise. His time as lecturer and Vice-Principal at Moore College was his greatest contribution to the Diocese. Sadly, his time as Archbishop was marked by protracted, bitter and unwanted controversy over the ordination of women.
Personal memories of DWBR include finding myself opposite him at an afternoon tea in his son Martin's rectory. The occasion was a grand-daughter's confirmation. I remember being almost too awestruck to hold a conversation with this ascetic, scholarly man, but I found him kind and unpretentious. His reply to a comment that he was a very important man came to mind: he said 'No but it is a very important job.'
He later came as a parishioner St Swithun's Pymble, my church. There he gave sermons quite gripping in their intelligent exploration of the Biblical text, as though he was turning and gazing upon a faceted jewel. There were never any illustrations: the sermons didn't need them.
When writing a biography of DB Knox, I went to him for critical insights on DBK and Moore College and dedicated the published book to Donald Robinson, mentor and friend. He subsequently generously granted me a dozen or so interviews, in which I discovered his eirenic character, his genuine humility and his love for Christ. He was conscious that his memory had begun to decline, and I remember telling him, 'Donald, you are becoming like the rest of us.'
In one interview, he told me his prayer at the beginning of each day was the Collect for the First Ordinary Sunday: 'Lord, mercifully receive the prayers of your people who call upon you; and grant that we may perceive and know what things we ought to do, and also may have grace and power faithfully to perform them; through Jesus Christ our Lord. Amen'
What better life-defining prayer than this?
---
Raj Gupta, lead pastor at Toongabbie Anglican church
Almost 20 years ago, I had an extraordinary privilege.
I was part of a Moore College mission team. Another team member got off the phone and said: "who wants to go door knocking with 'Don Robbie'". He is keen, and insists on doing the streets around his home. The room froze. No hands went up. Eventually, I said I would give it a go.
I had no idea that it would be one of the most memorable experiences of my life.
Turning up, former Archbishop Robinson was dressed in purple and had a notebook in his hand. He said that would help in remember people.
I thought I would have to work out how to take the lead. How wrong I was! He said – "OK, let's pray and go." Without hesitation, he bounded up to the first door with the kind of enthusiasm that I have rarely seen before (and since).
Without hesitation, he bounded up to the first door with the kind of enthusiasm that I have rarely seen before. He knew the name of the person who answered the door and he was talking at ease about gardening and pretty much whatever else came up.
He didn't need his notebook. He knew the name of the person who answered the door. And there was no way he was going to let me even try to take the lead: "hello". And he was talking at ease about gardening and pretty much whatever else came up. I was thinking – Would we even get to the second house? Would we get to the Gospel? 
And all of a sudden – his hands went up. "Now, let me tell you what we are doing. We have students from the college and we are doing a mission……" His ability to talk with anyone is something I will never forget. His boldness was inspirational. It was a story that reoccurred on the second, third, fourth, and every house where someone home.
 Oh – and that black notebook. It was where he kept notes of everyone we spoke with. It turned out that he was updating it from previous conversations, after each house. And he told me it would help him pray for his neighbours.
I had thought that we only had a few streets to do. But we ran out of time. It certainly wasn't I who took the lead – what an arrogant thought in hindsight. And it wasn't too long before everyone else on the team wished that they had raised their hand. 
---
Neil Chambers, senior pastor of Bundoora Presbyterian Church
Archbishop Robinson left a lasting impression on me of both personal graciousness and the integrity of Sydney Anglicanism. While still a medical student involved in Sydney Uni EU we were encouraged to run dialogue dinners, dinners at which an invited guest would present the gospel in 5-10 minutes and then field questions. I gathered together some of my fellow students, many of whom were Jewish, and then Bishop Robinson came and shared tea with us. He presented the gospel by talking about Abraham and his faith. He spoke with great clarity and engaged with my guests. I was not an Anglican with only the smallest of personal connection to the Bishop, yet he gave up an evening in a very busy life to share the gospel with strangers. He gave me a glimpse of Christian greatness.
---
Chase R. Kuhn, Lecturer in Christian Thought and Ministry – Moore Theological College
It was as a theological college student, lost and confused in the midst of "emerging church" proposals, that the work of Donald Robinson was introduced to me by a mentor. I remember in my initial reading of Robinson's work being struck by the fresh insights he provided to the biblical text. He worked carefully to mine textual treasure and not simply regurgitate popular platitudes.
Perhaps what captured my attention was Robinson's identification of the church in the broader scope of salvation history. Of course, this was not novel—almost all ecclesiologies seek to identify the church in relationship to God's saving work—but Robinson's approach was different. He identified the church, not as the redeemed community (i.e. an identity), but as the activity of the redeemed. This perspective gave way to clearer and more focused reflection on what the church exists for in God's plans. Furthermore, he demonstrated that the church was not "new" in the New Testament. Ever since God called a particular people to himself, he has gathered this people to meet together with Him. What is "new" as the church is gathered now in Christ, is Jews and Gentiles being brought together. This is not by "superceding" Israel, but by bringing together distinctive people—enemies—in a "new man" Jesus Christ, through the peace achieved by his blood.
The richness of Robinson's biblical-theological reflection has served many around the world in their reflection on the church (amongst other topics). More than anything, he has forced us to look again at the biblical text and to pay careful attention to what God is doing across salvation history. Thanks be to God for the life and ministry of Don Robbie.
---
Graeme Goldsworthy, former lecturer at Moore College and specialist in biblical theology, OT and hermeneutics.
Donald Robinson was my teacher in Old Testament and Prayer Book at Moore College. He inspired me to engage the discipline of Biblical Theology, an interest that became for me a consuming passion. Towards the end of our course a member of our OT class posed the question of how "it all hangs together." It took Robbie about ninety seconds to outline his concept of the structure of biblical revelation, and he himself was to repeat it thus in a lecture as three stages in the revelation of God's kingdom: "First, the historical experiences of the fulfilment of God's promises to Abraham up to the kingdom of David's son in the land of inheritance; second, the projection of this fulfilment into the future day of the Lord, by the prophets, during the period of decline, fall, exile and return; third, the true fulfilment in Christ." I took this up as a foundational way of conceiving of the unity of biblical revelation with its central focus on the person and work of Christ.
I keep returning to Donald Robinson's work and personal inspiration. I cannot think of anything that I have written or taught in Biblical Theology that does not go back to the grounding in his teaching and encouragement.
To Robbie I owe the inspiration and the vision of the 'Big Picture' approach to teaching the Bible. I owe much to other teachers and colleagues; but I keep returning to Donald Robinson's work and personal inspiration. I cannot think of anything that I have written or taught in Biblical Theology that does not go back to the grounding in his teaching and encouragement.
---
Photo: Donald Robinson, 1982