The current season of my life (toddler, work, Masters, house built in the sixties) is reflected in this list, which I am very conscious is television-heavy. The plus side of endless nights of me collapsing in front of the television instead of doing something more wholesome and productive, is that I have scoped out some good content for everyone else who may not have the time to test out new shows.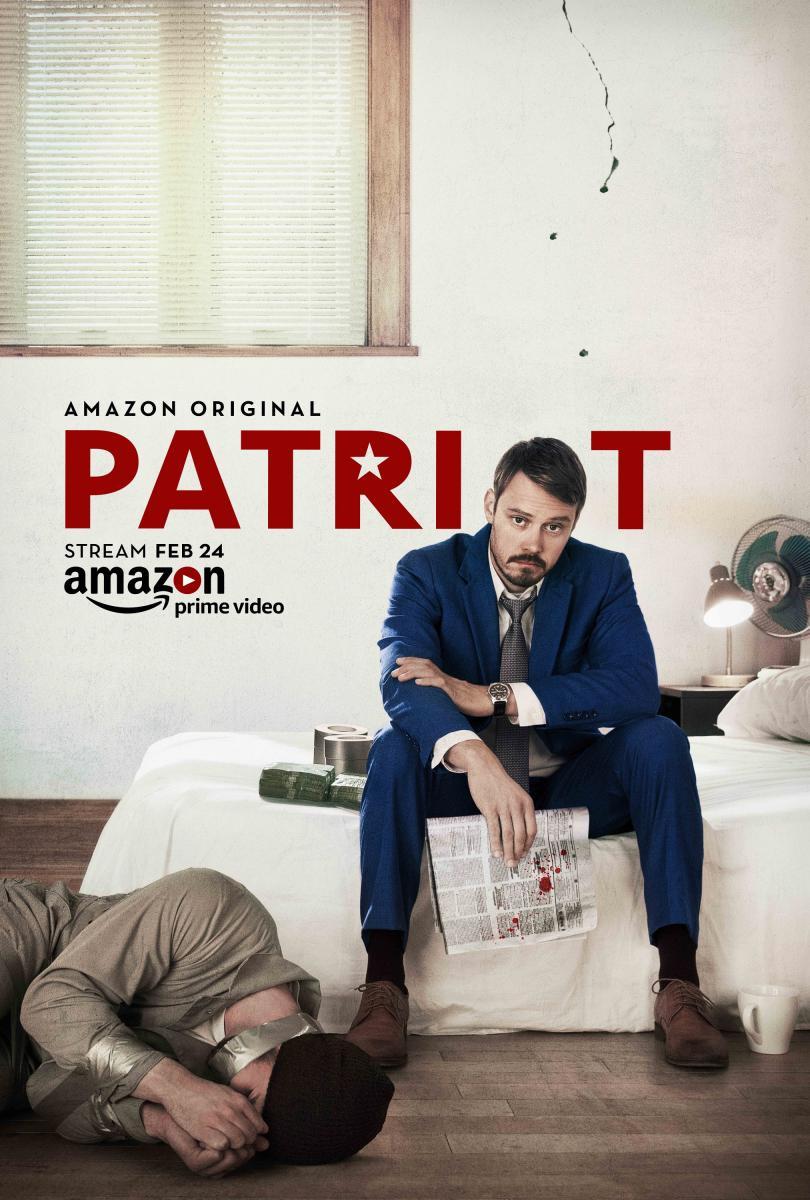 TV: Patriot
John Tavner's work is really getting to him. With a dad for a boss, he's having trouble putting boundaries in place and his work-life balance is seriously suffering. Another complication is that he's an intelligence officer for the American government. So when work is crazy, it's really crazy. Depressed, stressed and routinely injured, John writes increasingly literal folk songs to cope with the daily grind of assassinations and covert operations. This show is smart, heartfelt, and funny, and is constantly toying with the idea of what it means to be the "good guys." If Wes Anderson made a Bond film and Amy Sherman-Palladino helped write the screenplay, it would feel something like this.
Annoyingly only available on Amazon Prime. Season 2 out now. Watch out for the violence, bad language, and other skulduggery.
TV: Making a Murderer
Season 2 of this genre-defining show was released this year on Netflix, and not only was it not the rehashing of season 1 I expected, but it completely undid everything you thought you knew about the bafflingly tragic cases of Steven Avery and Brendan Dassey. Season 1 followed the arrest, trial, and conviction of two men on a rape-murder charge, and (very very) convincingly argued that they were targeted and framed by local police. The defence lawyers for Steven Avery became internet heartthrobs as a result, and I too may or may not have pinned their images to an inspirational Pinterest board. While we all still love Jerry Buting and Dean Strang, the world made room in its heart this season for Avery's new defence lawyer Kathleen Zellner, who reaches levels of badassery I thought only existed in a high production value crime dramas. With an unparalleled work ethic and a team of adorable young law clerks, Zellner makes it her personal business to overturn wrongful convictions, and this glimpse into her methods and subsequent discoveries is truly fascinating.
Available on Netflix. Season 2 out now. Features, you know, mature themes.
Book: Northanger Abbey by Jane Austen
Not exactly new, but Northanger Abbey is a fun, light-hearted, and easy holiday read. If you're someone who hasn't read any Austen (I know you guys exist), please ask yourself why. If you're a comedy fan, perhaps start with this tongue-in-cheek novel about a young girl enraptured with gothic romance novels who meets a cool and un-stuffy clergyman. Conveniently for a girl who is all about that drama drama drama, Henry Tilney lives in an old abbey with dark corners, creaky staircases, a strict father, and the memory of his late mother. Every sentence delights, and the wisdom of its narrator saturates the pages.
Book: The Screwtape Letters by C.S. Lewis
I slowly read through The Screwtape Letters twice this year. Both reads took a while, because each letter is so funny and cutting and tragic, that you need time to digest them. Often I have found myself reading a paragraph and then throwing the book down with an expletive because it's been uncomfortably pertinent. Like this section:
… an unobtrusive little vice which she shares with nearly all women who have grown up in an intelligent circle united by a clearly defined belief; and it consists in a quite untroubled assumption that the outsiders who do not share this belief are really too stupid and ridiculous. … [Her confidence], which she supposes to be due to Faith, is in reality largely due to the mere colour she has taken from her surroundings.
Ouch. Hard to swallow, but perhaps just what we need.
TV: The Nanny
Okay, hear me out. Yes, this is a show where youth and physical beauty are prized, marriage, success, and material possessions are idolised, and the entire script is basically just puns and innuendo. What's bad about this show is glaringly obvious. It's flaws are easy to spot. What's good about this show requires more consideration. In this story a young woman from the wrong side of town is out of a job and through a series of fortunate events finds herself working in the grand Park Avenue home of Maxwell Sheffield, a handsome Broadway producer. Her love, honesty, and emotional availability wins the hearts of his three children, and, though they are from totally different worlds, she begins to win him over too. The pain and tension that ensues when he has reservations about her family and station in life, plus battling with guilt over honouring the memory of his late wife, is practically Austenian. The characters are bold and unique, the costumes even more so, and if you end up binge-watching six seasons like I did, you'll see you underestimated the depth of the storytelling when you originally watched it in '95.
Available in all its kitschy glory on Stan.
The characters are bold and unique, the costumes even more so, and if you end up binge-watching six seasons like I did, you'll see you underestimated the depth of the storytelling when you originally watched it in '95.
Kids TV: Daniel Tiger
Based on a Mr Rogers character, this kids show follows the sweet and often banal adventures of Daniel, a tiger inexplicably living amongst other animals and sometimes humans (?) in a neighbourhood where empathy, sharing and small-scale independence are the laws of the land. It's weird, but it works. This is a gentle show which focuses on issues that are very very real for toddlers, like "I'm Still Playing But My Parents Say It's Time To Go," and "Why Is This Thing Different When I Expected It To Be The Same." The show provides kids and parents with answers to the hard questions plus songs to accompany each lesson. My favourite? "That was fun/But now it's done!" which I find myself singing whenever we leave a park.
Available on Netflix.
Kids TV: Earth to Luna
How does dough rise? Do stars really have points? Why do things fall? If your toddler is at this stage of their development, this show may be for them. Despite the fact that the illustrations aren't that great, this happy Brazilian offering manages to be earnest and unannoying. It introduces simple science topics with music and imagination. Finding children's shows that aren't horrific/garish/CGI is a challenge, so I'm thankful for a 2D show that has an eleven minute storyline and manages to cover a more advanced topic than Trains Leave The Station And Return There Later (no offense to anyone who likes Thomas).
Available on Netflix.