The Gospel Coalition Australia is partnering with Christian artist Colin Buchanan to engage Aussie kids with the gospel, during this pandemic.
Watch his video for details:
If you want to see Colin's videos, please do the following:
1) Return to the TGCA website at 6 pm this Wednesday night (AEDT), 1st April.
2) To make a song request, keep your eyes on our website – we'll have something up soon.
3) Visit Colin's YouTube channel, and click 'subscribe' to see other great material from Colin.
We pray these videos would help kids around Australia focus on Jesus during this challenging time of COVID-19.
---
TGCA is wanting to serve more Christians like you across Australia during COVID-19. Click here for details.  
---
Can you help us support Christians like you?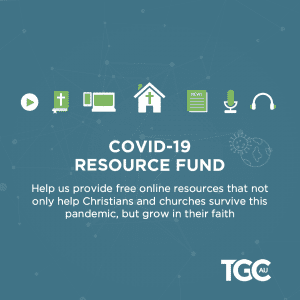 The COVID-19 pandemic has brought enormous change into our lives and the life of the church.
Learn more about partnering with TGCA to provide free online resources that not only help Christians and churches survive this pandemic, but grow in their faith.