When I was a child growing up in South Africa, Christmas meant summer holidays, a big glorious lunch feast at grandpa's house, and piles of presents, many of which read: "Dear Taryn, Merry Christmas! Love Father Christmas."
Jesus?
Well, he was the reason for the season, but in that "thanks for the excuse to indulge" kind of way. It was dashingly disappointing to 8-year-old me when my classmate announced that Santa was not real. Christmas lost its shine.
But Jesus didn't. I grew to a deeper sense of what the gift of his birth meant and by the time I was in my early twenties, I was blessed to discover, through an excellent Bible study, that Jesus wasn't confined to the pages of the New Testament, but that His Story began in Genesis and threaded its way right through the entire Bible.
After my own children came along, I longed to give them joyful Christmas traditions that were true and lasting
Not long after, my own children came along and my childhood memories of Christmas resurfaced. I longed to give them joyful Christmas traditions that were true and lasting: traditions that would remind us again and again of the gift of Jesus from Genesis to Revelation.  And so, 15 years ago, our advent calendar was born: every day focusing on a part of the Jesus story: from creation to Jesus' return. Revisiting this Bible overview every year has been a joy that my 17-year-old still enjoys, and has my 15-year-old already claiming dibs on inheriting the giant cloth calendar!
I had these things in mind as I recently approached a new family devotional called: A Jesus Christmas: Explore God's Amazing Plan for Christmas. The author, Barbara Reaoch is Bible Study Fellowship's Director of the Children's Division, and author of two other books (Why Christmas? and Why Easter?). Knowing her heart for the gospel, I was excited to see what the book entailed.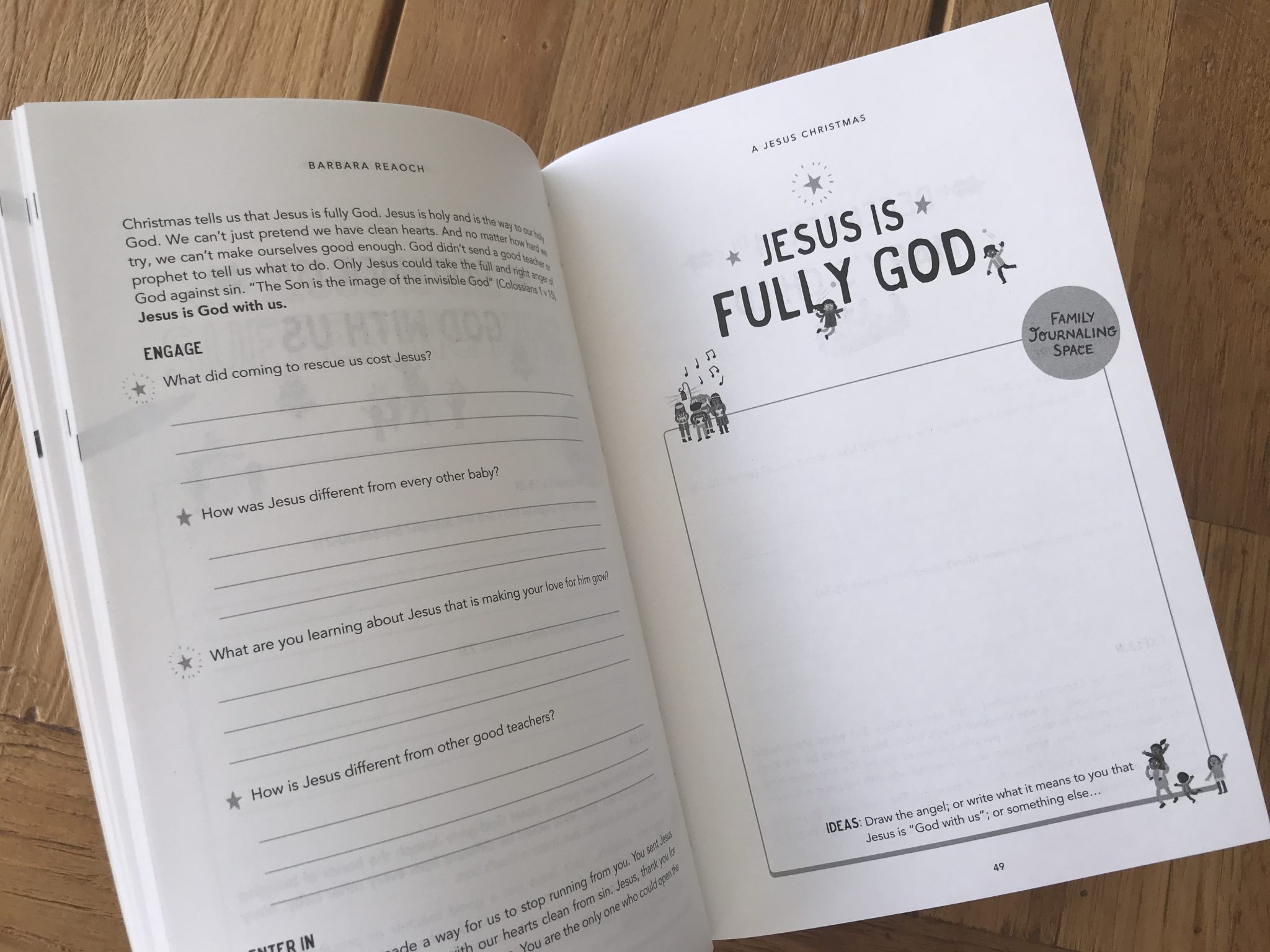 I have not been disappointed. Barbara has created a beautiful family devotional that is inclusive of all ages. Starting on December 1st and ending on Christmas day, this book follows a clear Bible overview, focusing on God's plan through Jesus from Genesis to John.  Each day includes four sections: Explore, Explain, Engage, Enter In.
Explore:a small chunk of Scripture with a couple of clear questions unpacking the essence of the text.
Explain:a clear explanation summarising the text and how it points to Jesus.
Engage:two more questions, aimed at older children, encourages them to see how Jesus intersects with their lives and stimulates deeper discussion.
Enter in:an opportunity to pray with a clear, short prayer that draws from what was learned that day.
Space is provided to write answers and a full page per day is devoted to a drawing or journaling space, with a large "Jesus Is …" statement that reflects the essence of the day's lesson. Families are encouraged to use the space to respond to what God has taught them that day.  For kids who may need some encouragement, a few ideas are jotted down at the bottom of the page.
While we have not used this section of the journal, I can see that it could be a wonderful way of reinforcing what was learned and give children a chance to contribute devotional keepsakes for future years.  Having four kids of my own, I can envision some squabbling over who gets to draw each day(!) Alternatively, it may be worth asking the publisher about copying off the journal pages for each child to enjoy every day—and maybe even create a picture book for the family after Christmas.
As I have been working through this devotional with my children (ranging from 11 to 17), I have really enjoyed the way Barbara highlights specific connections between the Old and the New Testament. On December 4th, for example, Jacob's dream of the stairway is paired with "Jesus is the stairway" for the "Jesus Is …" statement. This generated a lovely discussion in our family as we contemplated how amazing it is that it is God who reached out to the most unlikely of characters in Jacob, and how he reaches out to us with his incredible grace through Jesus.
For folk who may be unfamiliar with this style of devotional material, Barbara has included a "Before you Start" section, clearly outlining how to engage with the material. She includes explanations of useful Bible words and a web link to the answers. This, I think, is invaluable—especially for parents who are new to the Christian faith and who are learning alongside their children.
I would recommend this to all families who want to gather around God's Word this Christmas season with the view to keep Jesus front and centre.
---
The Jesus Christmas is available through most leading bookstores or direct from The Good Book Company. We also have one copy to give away. Stay tuned to the next episode of The Lydia Project project—Episode 38: Sue Duke to find how you can enter to win this book.