I think they (children) are the most unreached people group for the gospel in our world today.
Barbara and her husband lived in Michigan before moving to Cape Town, South Africa, to teach Bible Study Fellowship classes. They also worked with the Rafiki Foundation to train young women in job and life skills. With her grandchildren far away, Barbara began to write Bible studies for them to bridge the distance.
After returning to the US, Barbara directed the Children's Division of Bible Study Fellowship International. Barbara now lives in Minneapolis, MN, where she is learning to love snow again! She and her family are privileged to be a part of the wonderful body of believers at Bethlehem Baptist Church.
One of Barbara's favourite Bible passages is Acts 1:8. She says, "Because God has let me be part of His ministry to the ends of the earth."
Links mentioned in this episode: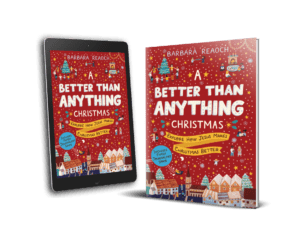 A Better Than Anything Christmas" to be released 1 October 2020
A Better Than Anything Christmas (book review)
A Jesus Christmas (book review)
Show Snippets:
Living and teaching overseas I learned in a new way that God's Word can reach children in every situation. I've seen the power of God's Word help children around the world — from Africa to Asia, India to the Alps, poor or rich. Whatever the challenge – God has given parents the privilege and power to reach their children with the transforming truth of his Word.
On reading the Bible for herself for the first time: "I felt like I had been invited to a banquet with all sorts of delicious foods and I just wanted to eat it all up."
"I knew I had been given a lot of food but I didn't understand the nutrition of it very much. I didn't know what I needed to stay healthy as a Christian."
I can still remember markers along the way that I would hear from people who were obviously Christian that sunk into my brain and eventually ended in my heart.
I was pretty bent on living the way I wanted to live.
When you give kids a big picture like that then they can understand the individual stories more clearly. 
We also talk about who Jesus is – why he is the tabernacle; why he is the bread. It helps kids to understand how the old testament connects with the new testament. 
In my heart is a passion to make parents successful in the job that they have  … there's nothing that gives me more pleasure than to equip parents in this task of discipling their children.
A Better than Anything Christmas is a 25-day exploration about Jesus' life. The Bible tells us that Christmas is all about the gifts that Jesus came to give to us. 
Statistically, most people who are in Christ, look back on a time between the ages of 10 and 12 in their childhood as a time when they came to embrace Christ as their saviour.
I am asking God to teach me more and more what it means too abide in him and live in his presence every minute of everyday. 
I want my life to be him – I want him to be in me and through me. I don't want to just know about it, I really want to live in him more completely so I'm still learning. 
I call that reverse mentoring, because I learn so much from (younger) people … a lot of the passion (they) have in (their) walk.
Missed an episode? All episodes are found here:
The Lydia Project: Conversations with Christian Women is a podcast co-hosted by Tori Walker and Taryn Hayes on The Gospel Coalition, Australia website. It features informal chats with Christian women around faith, life, ministry and the ways in which God is shaping their thinking and their lives. The views of our guests are their own and do not necessarily reflect the views of the hosts or TGC, Australia.